The First 'NNU Youth Summit' was Successfully Held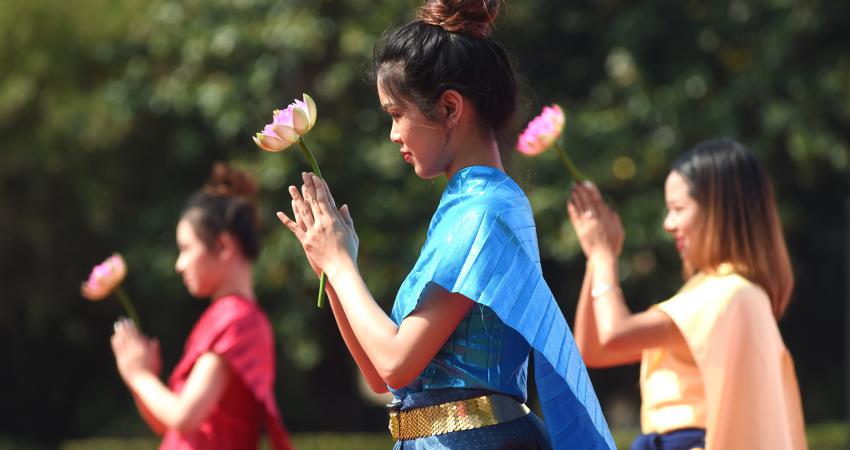 Hosted by the Graduate School of NNU and organized by the International College for Chinese Studies, the first 'NNU Youth Summit' themed 'To Retrace the Silk Road' was successfully held at the Suiyuan Campus of Nanjing Normal University on the afternoon of May 11th. The Summit was centered on the culture of two countries on the Silk Road——Thailand and Turkey. The vice president of NNU, Dr. Miao Jiandong, attended the event by invitation and delivered a speech. Nearly 300 teachers and students at home and abroad enjoyed a happy get-together in the Summit.
In Dr. Miao's speech, he said that Nanjing Normal University enrolled over 1600 foreign students from 133 countries and regions around the world each year so that the school had made a great contribution to the education of foreign students. He also pointed out that themed 'To Retrace the Silk Road', the event was not only a response and implementation of 'the Belt and Road Initiative' of our country, but also a bridge for the youth students at home and abroad to communicate with each other.
At the prelude, Dr. Miao gave a silk banner as an award to the voluntary Chinese teacher group of the International College for Chinese Studies which would visit Thailand and teach Chinese there. Afterwards, Dr. Miao and other participating leaders awarded prizes to the foreign students who had done a great job in the 'Foreign Students Panting, Calligraphy and Photography Competition'. They also signed their names on a customized silk belt featuring the national flags of countries around the world, announcing the grand opening of the first Youth Summit.
The Summit included four parts, namely Melodious Song Appreciation, Exotic Dance Show, Multinational Culture Quiz and Specialty Buffet. In the first part, participators enjoyed the mellifluous music and songs, and guessed their names. The various styles of music from different countries quickly lighted up a heated atmosphere. During the second part, dancers from Thailand and Turkey respectively showed the beautiful dances of their own countries. The third part of the Summit was an interesting quiz about different cultures in different countries, during which the participators knew more about the foreign cultures. Featured and delicious food was the subject of the last part. The participators tasted the palatable food and chatted with joy. At the closing of the event, the participators gave their autographs on the silk belt as a memento, and they exchanged the cards with their best wishes.
As a Chinese saying goes, only when we conform to the times and seize the moment can we make correct choices and beneficial decisions. The NNU Youth Summit was such an event that closely combined with the characteristics of the times. The success of it provided a cultural platform for Chinese and foreign youth, especially the youth from the countries on the Silk Road, to exchange their ideas and cultivate friendships.
(Script/Dong Sheng, Photos/YangYaochen、Yu Ping(Xinhua Daily), Translation/Han Shupeng, Proofreading/Zhao Jia、Li Ruoyi)